Submitted by
Allie
on September 5, 2019 - 1:27pm
Confession: I do about half my reading via audiobook. I listen to audiobooks pretty much constantly; in the car, before bed, while cooking. Sometimes I listen in the shower, or while also playing video games, or while walking my dog. I love audiobooks. They help me squeeze books into moments that would be otherwise tragically bookless.
Not every audiobook is great; most audiobook veterans have been burned by a bad narrator. But when you do come across that perfect synergy of story and performance, it's like magic. The trick is finding that perfect combination! Luckily, we're booksellers and there isn't a bookish topic we're not thrilled to make a list for.
These aren't necessarily the newest books of the season. That's a different list. These are some of our favorite audiobooks, our go-tos to sell people on the audiobook experience. They'll certainly get you started!
13 Audiobooks So Good You Should Listen To Them Even If You've Already Read Them
Circe by Madeline Miller, narrated by Perdita Weeks
Maybe I'm a little bit biased here because I'm pretty sure Circe was written specifically for me (feminist Greek myth retelling about a WITCH? How do you know me Madeline Miller?) but even if this weren't literally my dream book, Perdita Weeks narration is just transcendent. She's an actress, who you might know from As Above, So Below and she captures the spirit of the book perfectly. Plus, Madeline Miller is coming to our Lake Forest Park location October 25th, so now is the perfect time to start listening!
Women Talking by Miriam Toews, narrated by Matthew Edison
The book is about a group of traditional Mennonite women who discover that for the past two years, men in their isolated community have been drugging and raping them. Now they've met in secret to discuss what they're going to do next: stay and do nothing, stay and fight, or leave. What makes this an especially interesting audiobook is that the book is formatted as though it were the minutes of this secret meeting, so it's as if someone is reading you exactly what was done and said. It draws you into the story in a unique way.
Hitchhiker's Guide to the Galaxy by Douglas Adams, narrated by Stephen Fry
This book is an absolute delight, but most likely you already know that. What you may not know is that Stephen Fry of Blackadder fame narrates the audiobook. He captures the incredulous hilarity of the book perfectly and I cannot recommend it highly enough. Plus, for those of you who listened to the UK versions of the Harry Potter audiobooks, this might have some nostalgic value as well!
The Night Circus by Erin Morgenstern, narrated by Jim Dale
And speaking of Harry Potter audiobook nostalgia, if you listened to the US versions of Harry Potter, you'll know that Jim Dale is an absolutely magical narrator, and I'm sure you won't need to be convinced that this is an absolute must-listen! Plus, with Erin Morgenstern's new book on its way, this is the perfect time to experience (or re-experience) the wonder of The Night Circus. No, really -- this book is a cornucopia of delight and I would recommend it to anyone.
Becoming by Michelle Obama, narrated by Michelle Obama
Michelle Obama narrates her own biography. I mean, do I really need to sell this one to you any further?
Call Me By Your Name by Andre Aciman, narrated by Armie Hammer
I'm probably not going to have to sell this one too hard either. If you haven't seen the movie, this is a lush, devastating love story between seventeen-year-old Elio, and Oliver, a house guest of his parents. Armie Hammer plays Oliver, and also narrates the audiobook. If you have seen the movie, I can already hear you adding this to your wish list.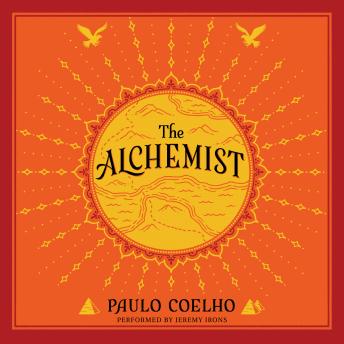 The Alchemist by Paulo Coelho, narrated by Jeremy Irons
Okay, one more that made it onto this list by force of star-power alone: Jeremy Irons reading the Alchemist. I hardly need to recommend this book, it's already sold 65 million copies. But when you add Jeremy Irons' smooth voice onto this beloved bestseller and you get an absolute must-listen. If you haven't listened to this already, or if it's been a while since you read it, consider this a sign -- it's time!
Lost City of the Monkey God by Douglas Preston, narrated by Bill Mumy
How about some non-fiction! Journalist Douglas Preston links up with some scientists and researchers in search of the legendary Lost City of the Monkey God, an ancient city deep in the Honduran jungle. Sound enough like the plot of an Indiana Jones movie yet? Well according to legend, anyone who finds the Lost City of the Monkey God is doomed to fall ill and die. And guess what happens when they find the lost city! They start getting sick! Bill Mumy's narration is spot on, so if you're looking to add some jungle exploring to your commute this is absolutely the book I'd recommend.
Stay Sexy & Don't Get Murdered by Karen Kilgariff and Georgia Hardstark, narrated by Karen Kilgariff, Georgia Hardstark and Paul Giamatti
Any murderinos out there? If you love the My Favorite Murder podcast, come listen the memoir! It's Karen and Georgia talking about their lives! Also, Paul Giamatti is there! If you don't love the My Favorite Murder podcast yet but you DO love true crime, podcasts and not getting murdered, this is definitely a great place to start.
Undead Girl Gang by Lily Anderson, narrated by Rebecca Soler
This book is pitched as Veronica Mars meets The Craft so yeah, hi, sign me up. When teenage wiccan Mila Flores' best friend dies under suspicious circumstances, Mila does what any sensible girl would do: she brings her best friend, as well as the other two victims, back from the dead. Rebecca Soler's narration is totally engrossing, and she nails the characterization, so if you're looking for some teenaged, witchy, best friend detectives as Fall rolls in, this might be the perfect listen.
Children of Blood and Bone by Toni Adeyemi, narrated by Bahni Turpin
You definitely don't need me to tell you to read this book, but listening to it brings me just a little bit closer to the animated series of my absolute dreams. Plus Bahni Turpin is practically audiobook reader royalty; she's also read The Hate You Give by Angie Thomas, They Both Die at the End by Adam Silvera and The Underground Railroad by Colson Whitehead.
Trick Mirror by Jia Tolentino, narrated by Jia Tolentino
How about some essays? They're bite-sized! Jia Tolentino writes thoughtfully about the various ways modern culture warps our perspective. She was deputy editor of Jezebel and contributing editor at The Hairpin. She's among the most brilliant millenial essayists writing and she reads her own essays!
Lincoln in the Bardo by George Saunders, narrated by various readers
Okay I lied, one more book gets on this list via star power. 166 people narrate this book! Each character is played by a different person! The cast is absolutely star studded! Julianne Moore! Nick Offerman! David Sedaris! Ben Stiller! Kat Dennings! Don Cheadle! Bill Hader! Keegan-Michael Key! Rainn Wilson! The list goes on and on. The book is wonderful, the performance is unbelievable, the whole project is unprecedented and you should absolutely check it out.
So there it is folks. 13 great places to start your audiobook journey. As to the question of where to get your audiobooks, you can always come into the store and buy them on CD. However, if you're looking for something a little more convenient, there are a number of places online to download audiobooks. We personally love Libro.fm because every purchase you make supports your local independent bookstore! With a Libro.fm membership you get a book every month for $14.99, plus a thirty percent discount on any additional audiobooks you decide to purchase. Your first book is free, so there's no reason not to get started! If, on the other hand, you're already savvy to the world of audiobook memberships, I will slyly point out that anyone who switches from another audiobook provider to libro.fm, you'll get three books for the price of one. Just in case that interests you!
Happy listening! Let us know what audiobooks you're loving in the comments below! Or tweet us at @thirdplacebooks we always love to hear from you!