Submitted by
Allie
on February 18, 2020 - 8:00pm
There are many things to love about being a bookseller, but my favorite double edged sword is that we get to read so many amazing books before they are officially released in stores. Double edged only because we read books we love and then we have to WAIT, sometimes MONTHS before we get to shove them breathlessly into your hands.
There's been a lot of buzz around the bookstore lately because of all the wonderful advance reading copies we're getting through, and because the suspense is killing us, this is what we can't wait to recommend in the coming months:
Elisabeth: Thirty Names of Night by Zeid Joukhadar, out May 19th 2020
This is the story of three generations, of migration from Syria to the U.S., and of the family's artistic passion: painting and documenting birds. It is also the story of a trans man coming of age. This reality unfolds amid family expectations in a new country, the loss of a parent, intrigue about a rare bird, and the comfort of remembering a first and deep love. There is a tenderness and uplifting poignancy to Joukhadar's writing. I love this book!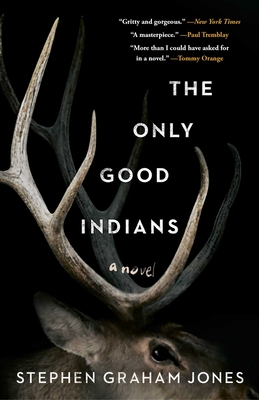 Christina: The Only Good Indians by Stephen Graham Jones, out May 19th 2020
Something from the shared past of four Blackfeet men lurches to life and begins to happily take revenge, ten years afterwards. They've already tried to change their lives and make some amends after the mistake they made, but that doesn't matter to their victim. Really elegantly crafted, emotionally rich with hope and dread, and heartwrenching.



Renee: Black Brother, Black Brother by Jewell Parker Rhodes, out March 3rd 2020
Donte is dark skinned, but his brother Trey presents white. When Donte is bullied by the captain of the fencing team at their (mostly white) private school, Donte takes the blame. When he insists he didn't do anything wrong, he is arrested. Donte joins a local youth center looking for support, and there he meets a former Olympic fencer who agrees to teach him to best his bully at his own sport. This book examines colorism, and the corrupt, racist systems that are failing our schools, all packaged in an engaging sports narrative.
Allie: Conjure Women by Afia Atakora, out April 7th 2020
This is set in the early reconstruction era south. Rue is a healer, a conjure woman like her mother, who is using every power available to her to keep her town safe, both from illness, and from white people who might take interest in a town of black folks living unbothered on what used to be a plantation. But as disease rips through the town, people begin to lose faith in Rue and her healing, and as their suspicions mount, old secrets begin to come to light. I'm halfway through this book but I'm loving how the story is folding together from all directions, so that you feel the emotional weight of these secrets before you know what they are.
Claire: Stamped by Ibram X. Kendi and Jason Reynolds, out March 10th 2020
I'm so excited to start selling this book that I've already given my copy away to someone else! The National Book Award winning phenomenon Stamped from the Beginning by Ibram X. Kendi has now been remixed by the incomparable Jason Reynolds in this new version for teenagers. It is a sweeping yet simultaneously in depth look at America's racist beginnings, up until America's racist present. I read this whole thing in one sitting and learned more from it than any history class I've ever taken. My greatest wish is that everyone on earth will read it.
Rosa: Luster by Raven Leilani, out August 4th 2020
If you're thinking, oh great another novel about a complicated 20 something living in NYC who has an affair with an older man well... that's only the most obvious thing about the book. Everything else that happens is furiously intense, tragic, funny and heartbreaking. One of the best books I've read in a long time.
Danielle: Real Men Knit by Kwana Jackson, out May 19th 2020
REAL MEN KNIT! The cover is just *muah*
Heartbreaker hero and shopgirl heroine fight to keep a family-owned knitting store from closing. Shop local movement comes to Romance? Yes, please!
Katelynn: Greenwood by Michale Christie, out February 25th 2020
Multiple nature-driven POVs, spanning generations of a single family like the rings in the trunk of a tree? Yes, please!! Or to put it another way, think Overstory meets Cloud Atlas meets Future Home of the Living God, and you're getting close to the essential vibe that every page of this book gives off.

Erin: The Glass Hotel by Emily St. John Mandel, out March 24th 2020
This is an intricate book about greed, crisis and survival. The prose stays out of it's own way, so that the story unfolds at the perfect pace and as a result I can't put it down.
Wes: W-3 by Bette Howland, out July 7th 2020
Sophisticated and sharp-witted, Bette Howland's memoir is nothing short of a revelation.
While her observations of fellow patients are clever and unflinching, they also pulse with understanding and compassion. Scores of worthwhile autobiographies chronicling life on a psychiatric ward have been published since this originally appeared in 1974 but few have done so with Howland's magnanimity and intellectual verve.
Claudia: Untamed by Glennon Doyle, out March 10th 2020
I have been eagerly awaiting this book since 2016 (when Doyle's book, Love Warrior, was published). Untamed did NOT disappoint! Glennon sinks her hooks into you right from the introduction, and pulls you up with her to a place of not just self-love, but self-and-other-celebration. I can't wait to share this book with every woman in my life!
So there you have it folks -- just a small selection of the books we're so excited to sell over the next few months. Don't forget to preorder anything that strikes your interest so we can shoot you an email when it gets here. And as always, let us know what sparks your interest in the comments, or tweet us @thirdplacebooks! We love to hear from you, it makes our day!