Submitted by
Nicole R
on October 12, 2021 - 3:14pm
Is your book club at a loss for what to read next? Can't decide because there are just too many great books to choose from? Well look no further because we've created a new blog post series where each month, one of our booksellers will recommend a title that they think would make a great book club pick as well as some fun ideas for what to drink, eat, read, watch, and listen to inspired by the book to take your literary get-together to the next level!
Bookseller Deborah recommends Three Hours in Paris for your next book club pick!
---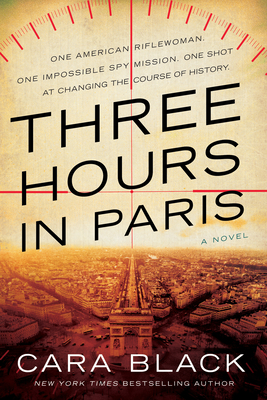 Three Hours in Paris by Cara Black
Price: $16.95
Genre: Mystery & Suspense
"Cara Black has entertained us for over twenty years with her series featuring Aimee Ledue, a young, stylish PI who knows 1990's Paris inside and out. Who better to write a World War II thriller set in Paris starring young American widow Kate Rees who has been selected by the British and trained as a sniper with one goal: to assassinate Hitler on his brief, 3 hour stop in Paris.
If you love mysteries but also enjoy The Nightingale or The Alice Network, Cara Black has written a book for you!" - Bookseller Deborah
---
Book Club Guide:
There's nothing like a fun theme to elevate a social gathering. So to help you create the perfect setting, here are some fun ways to bring a little bit of the book's atmosphere to your next book club meeting!

What to drink:
For a daytime meeting, french press coffee and tea are sure to please. Sparkling water, red wine, and/or classic french cocktails/mocktails are a no-brainer at any nighttime meeting.
If you want to dive deep into the the wines of France, take a look at French Wine: A History. If your barista skills are a little lacking, Craft Coffee can help you live your best coffee life.
What to eat:
Kate Rees doesn't have much opportunity to sample Parisian cuisine, but that doesn't mean you have to miss out! Consider a charcuterie spread full of classic French favorites. Ask your members to arrive with their favorite French cheeses, breads, spreads, and/or meats. Make it inclusive with gluten-free, vegetarian, and vegan options.

For some charcuterie inspiration check out Platters and Boards by Shelly Westerhausen, with Wyatt Worcel, or take a look at À Table for a taste of France!
What to read next:
-The Alice Network by Kate Quinn
-The Nightingale by Kristin Hannah
-Maisie Dobbs by Jacqueline Winspear
-War Widow by Tara Moss
What to watch next:
-Agent Carter on Disney+
-Traitors on Netflix
-Bomb Girls on Amazon Prime Video
What to listen to:
Check out this Spotify playlist we made and transport yourself to 1940's Paris!
Make sure to follow us on Instagram, Twitter, and Facebook for more book-related content and visit us in-store at our Lake Forest Park location to pick up print-outs of the book club guide! If you wanna learn more about our very own Third Place Books hosted book clubs, click here.
Created by Sarah B.
Edited by Nicole R.